The media frenzy over the collision between Lewis Hamilton and Sebastian Vettel from a fortnight ago continued to overshadow proceedings as F1 headed to Austria for the ninth round of the 2017 season. While all attention focused on the championship contenders' off-track interactions, one man did all of his talking on the track, and has now found himself in the slipstream of the leaders at the summit of the drivers' standings.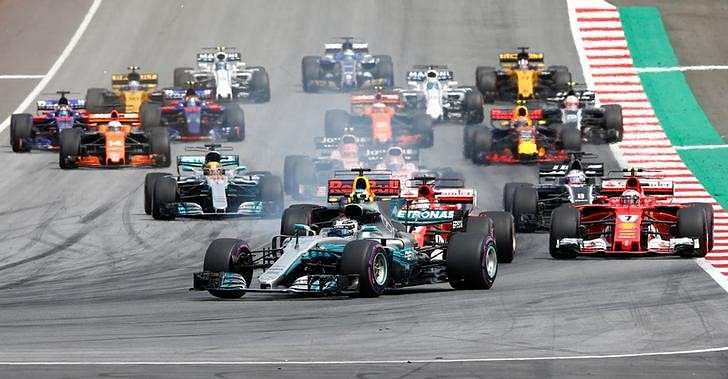 Valtteri Bottas' dominant display to the line certainly altered the outlook on what was previously regarded as a two-horse race for the title.  The Finn's calm and composed demeanour was rewarded not only by the benefit of a lightning start, but also by keeping himself above and beyond the vastly escalating scrap- both on and off the track- between Hamilton and Vettel.
With all the attention and pressure of being at the top riding relatively low on his shoulders, Bottas once again proved that he can compete with Mercedes' and his own ambitions of fighting for the championship. By driving a tidy and understated weekend, he has now found himself closer to Hamilton in the standings than his teammate in the sister car is to leader Vettel.
At this stage in the season, the championship battle begins to sway in the favour of those who can avoid the drama and bad luck that will serve to hinder their hopes. In the case of Hamilton and Vettel, they're both doing a poor job thus far, particularly Hamilton, who once again this weekend faced the compromise of starting in the middle of the pack. On the subject of gearbox penalties, I do agree with Martin Brundle that it is the teams who should face the penalty rather than the driver. It presents an almost unfair and unnecessary obstacle to the driver when they have their own responsibilities on track to attend. In the case of Hamilton, it's been another pothole on his path to catching Vettel, and especially in light of the German's somewhat lenient punishment, I believe penalties should take on a clearer distinction when it comes to actions from a team and actions from a driver. While I was pleased that Vettel's penalty hasn't impeded this season's exciting fight for the title, his own on-track actions have affected no part of his proceeding races, while on the other hand for Hamilton, a mechanical failure which slips even beyond the scope of the team, completely changed the outlook of his race.
Penalties aside, right now the two are both facing intense media coverage on an incident which they have already, and quite clearly, resolved together in private. The attempt at a public handshake following qualifying made for rather painful viewing, and while Hamilton's refusal looked dismissive and unforgiving to many, we have to remember that this is about two grown men who are keen to put the issue to bed not only for the sake of their racing, but for the sake of cooling the media's hysteria.
I believe Hamilton and Vettel have reached a conclusion on the matter, and whatever that may be, we may never know. However, the respect remains evident. At the end of the day, Vettel's hunger for titles is so strong that he will argue his case over any competitor that stands in his way. We even saw that today right from the moment the lights went out as he was already on the radio to Charlie for a potential Bottas jumpstart. That's just the game he plays, and you cannot blame him for it. You instead have to commend his hunger- it's not personal, it's racing.
As for Hamilton, this behaviour is nothing new. The three-time champion can probably count all of his friends on one hand; ever since karting he has been a private figure in the paddock. Let's not think for one moment that Hamilton ever considered Vettel, or anyone on the track for that matter, his 'friend'. In Lewis' eyes everyone is either a colleague, or a rival. His mind is set purely on winning races, and that's all he wants to do. Despite being modern Formula 1's closest equivalent of a celebrity, his recent reserved nature suggests he would appreciate the chance to just do his talking entirely on the track with so much at stake this year.
Fundamentally, the two are no different. They both want to just get to business with minimal fuss, and the desire to win is there more than ever before- but are they now joined by Bottas in the hunt for glory?
In all honesty, I had low hopes for Bottas at the beginning of the season. I feared he would follow in the same footsteps as fellow countrymen Heikki Kovalainen did as Hamilton's teammate for two years. Despite that premonition, he has proven himself a very talented and intelligent driver in a title-contending car. To be fair, he already showed those skills on a consistent basis at Williams, but he has made a commendable step up into the top team without succumbing to any of the expectations or pressure that inevitably come with replacing the retiring world champion, and arguably Hamilton's greatest rival, Nico Rosberg.
While Bottas may be taking advantage of his rivals' problems, the pressure will of course now increase likewise on his end, but if he displays the same composure as he did in the final laps with a heavily blistered left-rear tyre, then I believe he is more than capable of posing a threat to the top two this year. In terms of outright speed, I still think that's a contest which only Vettel can pose to Hamilton. On an ideal day with clean starts and clean air, both drivers are absolutely untouchable, and prove precisely why they are the defining drivers of this generation. Bottas may have been under attack in the late stages, but let's not take away the fact that he fairly claimed pole, and dominated the majority of the race, even with the controversial start- his reaction time was deemed acceptable, and so lucky guess, an abrupt twitch of adrenaline, or whatever caused his launch off the line, there was no reason to penalise the pole-sitter.
Further down the field, and it was another disappointing drive from the other Finn on the grid, Kimi Raikkonen, winding up a distant 20 seconds off the lead. Again this season, just like previous years in the Ferrari, the 2007 champion just hasn't had those crucial tenths in him that his rivals always manage to find. He sounds a bemused figure in the cockpit, often trying to navigate his way through endless submenus required to remedy his troubled engine. It's a shame that a very skilled driver just isn't cutting it to fight at the top, otherwise we would have one hell of a fight in an all-out Mercedes versus Ferrari showdown. We've seen glimpses this season, like the pole in Monaco, but a lot of the time he just hasn't demonstrated that hunger and desire to win that his rivals all possess. Although an immensely popular figure in the paddock, it would really surprise me to see him in scarlet red overalls next year.
In the first few corners we saw two drivers both eyeing greener grass collide in Alonso and Verstappen. The McLaren's decent pace in qualifying proved their chassis has what it takes to compete, but still the engine shows little signs of keeping up with other manufacturers. It's a shame that in his later years, one of F1's fastest drivers isn't being given the opportunity to compete where he belongs. At the other end of their career, Max Verstappen appears to be pushing for the Ferrari move that will see him tested against the very best. You get the feeling that these two will not remain idle for too long, and with the summer break approaching, you never know what developments may spring up.
Verstappen does need to register a cleaner finish record though if he wishes to pen a contract with one of the bigger teams, as meanwhile Daniel Ricciardo continued his electric form, and continues to overachieve in the lacklustre Red Bull. The reality of Formula 1 these days is that there are many drivers capable of challenging for titles, but the scarcity of places at the top unfortunately mean those opportunities may never come. I really hope we see Ricciardo in a title-contending car at some point as he enters the prime years of his career.
Meanwhile Romain Grosjean secured a terrific 6th place finish for Haas, Force India continue to impress with double points finish alongside Williams, who fought through the chaos to make up the remaining points. It's promising to see Stroll again in the points, despite being in a Williams car which is continuing to deteriorate on form. It was an uneventful afternoon for Vandoorne and the two Saubers, while the Toro Rossos both suffered a miserable Sunday afternoon. Finally, it was pleasing to see Jolyon Palmer get a boost in beating his teammate Nico Hulkenberg, albeit just outside the points.
In just seven days F1 heads home to Silverstone and amongst the roaring British fans there is no better place for Hamilton to overturn his misfortune and get back on the top step of the podium. Can Vettel extend his lead? Can Bottas continue his charge? Or will it be Hamilton to take the honours on what has been a favourable hunting ground in recent years? The plot thickens.